How to choose the right colour for windows & doors at your home?
Which colour should I use?
Having a colour in mind for your windows and doors can really help to reflect your home in the best possible way. It can transform your home's exterior from dull to something that's more exciting! And we offer some great inspiration. 
Popular colours with homeowners
Black, red and blue are popular colours amongst homeowners. With Leicester Window Supplies, you can colour match door frames separately to create the dream house you have always imagined. 

Our wood-grain foil colours for windows are also available in Chartwell Green, Golden Oak and Heritage White. These colours are beautiful and will look wonderful in your home.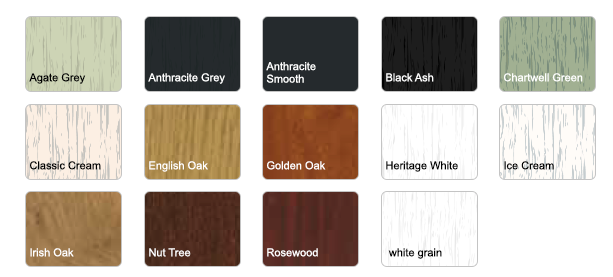 Whether you choose to use subtle colours to match your home's current interior or pick something that will spark the interest of passing visitors. We can help pick the right colour for you in no time!  
What a Colourful Collection!
If you're looking for a different colour for your windows and doors, we have a wide range for you to choose from. Darkwood, Chartwell, black, red and blue are available that can make a statement for a house and really refresh the outside of your home.
Visit Our Showroom
Pop by and visit our showroom or contact us to explore all the amazing colours we have available to choose your door. And be inspired by our range of colours that will suit your home.