Roof Lanterns
Contemporary Roof Lantern
Our Contemporary Roof lantern is a fantastic addition to any home and can be installed into any room of the house. They give a room a feeling as though it has no boundaries. Allowing light to flood into your house.
The Contemporary Roof Lanterns are designed to look sleek and slender maximising the view out, and the amount of light in. They can be styled to be modern and contemporary or to blend into a more traditional property. The glass that we supply as standard with all our roof lanterns is The Pilkington Activ-blue self-cleaning with solar control. This reduces the amount of cleaning needed and the amount of heat entering the room. Although we recommend getting somebody up to check it over once a year and clean away any debris that may have collected around the bottom of the roof lantern, they are effectively maintenance free!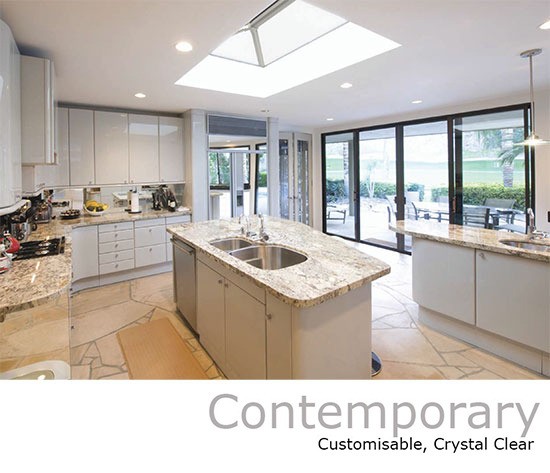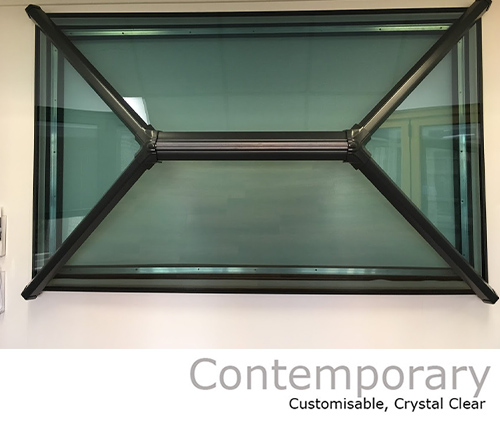 To ensure that our Contemporary Roof Lanterns exceed our expectations, they have been designed them to be both very strong and long lasting as well as weather proof and well insulated. The Contemporary Roof Lantern can be designed to have a U-Value as low as 1.1!
You are able to change the colour of both the interior and exterior to, White, Anthracite Grey or Black. You can also choose whether you would like the interior cladding to be manufactured from PVC or Aluminum. If you have any further questions, contact us and a member of our team will be very happy to help.
Atlas Flat Rooflight
The Atlas Flat Rooflight brings a perfect blend of market leading thermal performance and maximum light to your home extension.
Bringing more light into your room, the minimal contemporary design uses a frame that is almost completely invisible from the inside. These frameless aesthetics give you the illusion of looking out to an open sky, connecting you to the outside world in a new way. The Atlas Flat Rooflight contains double-glazing that sits flush to the internal plaster of your ceiling, creating crisp, clean and modern lines that seamlessly match the design ethics of your home.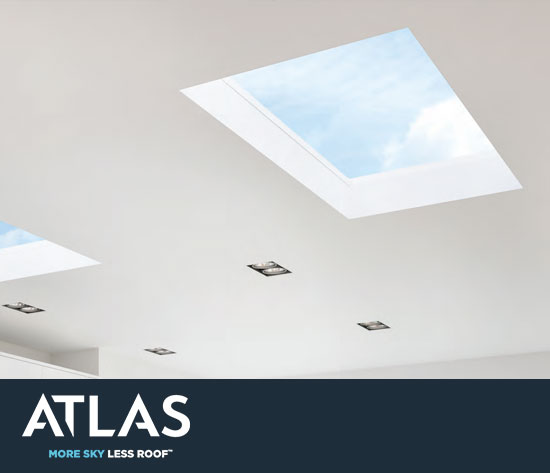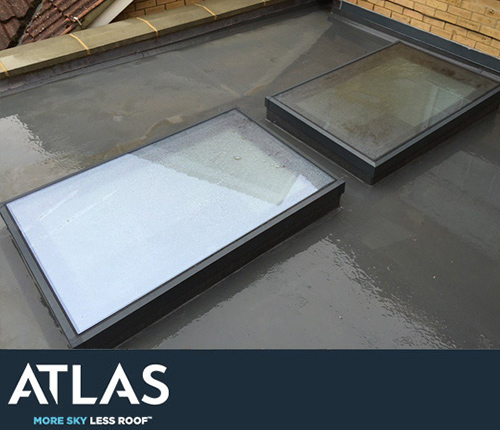 The Atlas flat rooflight has been designed to be fitted with ease. The frame can be simply screwed from the side with hidden direct fixings or from the underside with a strap fixing.
Self-cleaning glass and a 10 year seal and easy-clean coating warranty ensure that the rooflight will require minimal maintenance through its service life. The rooflight does not compromise on weather performance either and its five degree pitched kerb allows water to drain off the glazing unit on the existing flat roof.
The Atlas Flat Rooflight comes factory glazed with toughened Pilkington Active Neutral Self Cleaning Glass. This glazing achieves a U-value of 1.3. It is available as standard in white, grey, black, grey on white and black on white and in a number of sizes.