How to choose doors for your home
Where to start?
When looking for a new door, the first thing you'll need to do is take a quick measurement to know its height and width. With every door having certain limitations, this will help to work towards the different options available to you. You will also want to consider whether you want it to match your existing windows or whether you want to make it stand out.
Which door style?
Look at the different door styles available. Each of these door styles come in a whole range of colours. These styles vary from modern and contemporary to art deco as well as traditional so you'll find something to match your home. When considering the individual style of doors, it is worth remembering that all the hardware is chosen separately. This is added on later. Certain items of hardware such as spyholes and door knobs aren't available on all style doors.
Create the perfect look for your home with Smart Designer Doors. Designed to not only deliver outstanding security and stylish looks, but also acoustic and thermal performance. Choose the design, colour and style of your new door to reflect the real character of your home.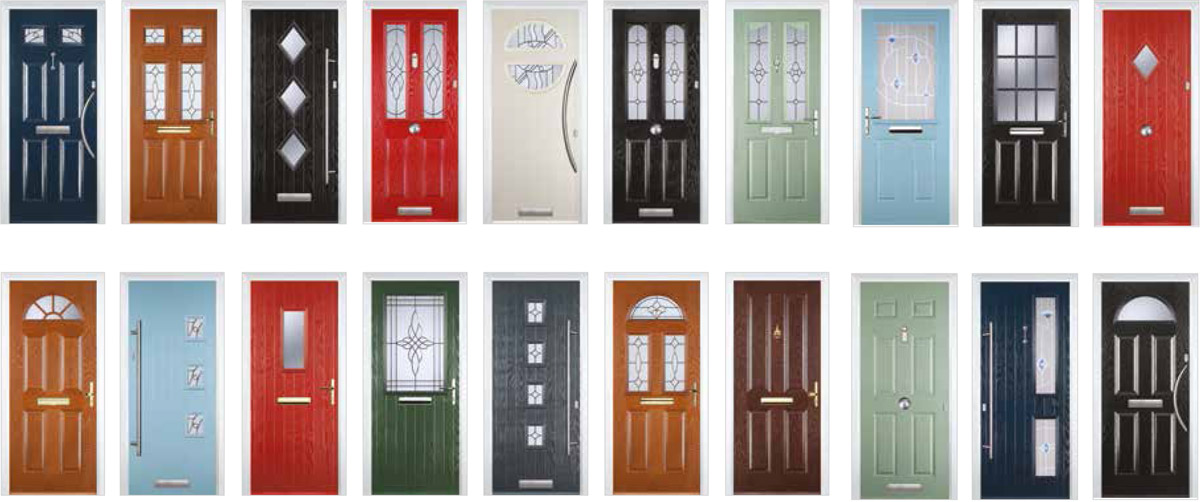 Which door colour?
Our colour range is available for all our composite door panels. The most popular colours tend be black, red and blue. Most of these doors are available dual coloured with a white interior. The frames can be colour matched separately. This is to allow you to match the outer frame of the door to your windows whilst injecting a different colour into your home.

Which glass?
There are a lot of options available when it comes to glass, these are for security, privacy, solar control, self-cleaning and to prevent sun bleaching. On top of this there are the design options such as patterned glass, lead work, Georgian bar and different colour options.
Which furniture?
Handles, hinges, door knockers, spyholes, door knobs, letterboxes and security chains are all different parts of the doors hardware that can be customised. These come in two main colours, gold and chrome. The hardware can completely change the design of the door and can add character or make it minimalistic and contemporary. Another part of the door furniture to consider is the threshold. Most people opt for a low aluminium threshold to limit trip hazards, it is worth noting that this doesn't have the same weather rating as a standard threshold.
Still not sure what type of doors you need?
Visit our showroom and find your best match.