Aluminium Front Doors
Do you want to make a great first impression to whoever visits your home? Start with a Smart's Aluminium Designer Doors. Designed to not only deliver outstanding security and stylish look, but also acoustic and thermal performance.

Bespoke Designer Doors
What makes these doors special is you get to choose the design, colour and style of your new door to reflect the real character of your living space. Whether you want a cottage style front door or a traditional design, there is a door to fit.
With four ranges to choose from (Modern, Traditional, Vintage and Cottage) and a wide range of glazing, accessories and finishes, you can be sure that your door is unique to you. Whatever aura you want to create for those that knock on your door, we can create it.
Each door uses Smart's polyamide thermal barriers to prevent the warm air inside, getting out, therefore making your home more energy efficient and saving you money on your heating bills. Coupled with a high quality finish at an affordable price, the luxury of a bespoke aluminium front door can easily be within your reach!



High security, low risk
Not only are these doors tailored to you, but they are also specifically designed with your safety in mind. Each of the Aluminium Designer Doors are fitted with locks that are tamper-protected and hinges that are reinforced against external impacts, as well as a thermal barrier to keep your house warmer for longer.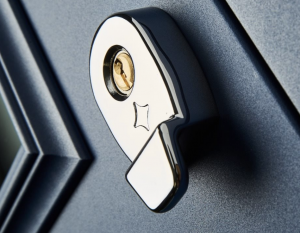 Specifications
3 Adjustable hinges, resistant to 80kg of pressure per hinge
Polyamide thermal barrier to improve thermal performance
Security laminated, triple-glazed glass units
10-point locking
Tamper-protected locks
Locking pins shaped for efficient closure
Download the latest Smart Designer Door brochure to find your perfect fit, or contact us today to get the ball rolling!
Download a Brochure
Not able to come into the showroom?
Even if you are not able to come into the showroom for any reason, you don't have to miss out on finding your future bespoke doors.

Leicester Window Supplies are now proudly able to offer remote meetings in which our colleagues can talk you through our range of products.

If you would like to use this service, please contact us today.

Book a Video Chat